Untitled #02/18 (after Caravaggio, 1607)
Limited Edition Canvas Details
Edition of 3 and 2 Artist's Proofs
80 x 85 cm / 32" x 34"
Other Edition Print Options
Description
Immediately apparent to followers of Watson's art is that this extraordinary work is the first to introduce a complete masterpiece by Caravaggio into a 21st Century scene, as apposed to introducing contemporary models painted within the classical work - an important and significant development in the Australian artist's ouvre.
Once again, and without altering the Renaissance artist's composition or proportions, Watson has created a compelling scene with his first reference of Caravaggio's iconic 'David with the Head of Goliath' integrated into a construction scene featuring a ruggedly, masculine plumber and iconography we immediately associate with warning and danger.
Caravaggio famously spotted many of his subjects in the street and many of these were working class men and women. Watson photographed this plumber working in the street near his Melbourne home. His expression is tense as he eyes David, and subtle but discernible splatters of blood on his arms render his inclusion in the scene convincing. Strongly reinforcing the violent tension in the classical reference.
The fluorescent road worker sign evokes Caravaggio's street workers, and Watson's strategically placed gold and white arrows draws the viewer's eyes upwards, whilst David's clenched left hand forms a powerful visual triangle with the white diagonal bands below.
In 1616, The Prince of Wales, who became King Charles I of England bought Caravaggio's David with the Head of Goliath, ironically, his eventual death was by beheading. This painting of 'David' was Caravaggio's last painting of a young man called Cecco, whom he had painted several times.
About Limited Edition Canvases
These are our most collectable editions.
All available Edition Canvases are in an edition of three with two artist's proofs. They are hand-signed and numbered by Ross Watson on the reverse (non-image) side of the canvas. Your preferred edition number to purchase can be selected from the top menu.
An Artist's Proof is the same quality as the editions numbered 1-3, and is the first print produced when colour and quality is perfected. Each canvas is of equal quality and value.
Edition Canvases are printed with archival inks on the world's leading archival canvas: Hahnemühle Daguerre.
Use of glass in framing is optional, eliminating potential of reflections when viewing your canvas.
The sizes provided are the unframed image size. The canvases are printed with a generous white border and we recommend they be placed on a wooden stretcher before adding a decorative frame.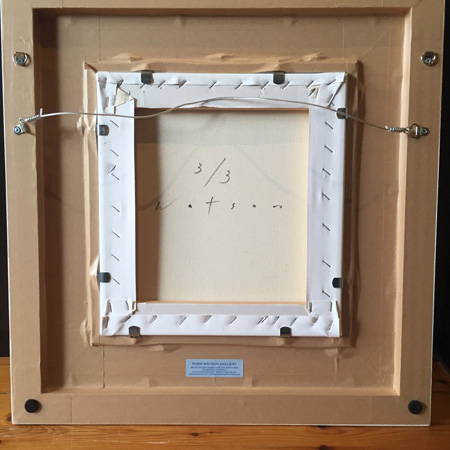 Verso of framed signed canvas on a wooden stretcher
Delivery Information
We offer FREE worldwide fully-insured postage and packaging for all Limited Edition Prints and Photography.
All Limited Edition Prints, Canvases and Photography are sent unframed and packaged in re-enforced postal tubes.
All items will be shipped within 3 business days of receiving payment for your order. Delivery times can vary, but purchases are generally received worldwide within 5-7 business days from dispatch.
Items to be sent domestically will be sent using registered Australian Post. International orders are sent using international postal Express Mail Service (EMS). Tracking details will be provide upon dispatch of your order.
We take pride in getting your prints to you in the perfect condition. Your print will have been individually inspected and packed in perfect condition. Please minimize handling prior to framing.
Collector Testimonials
"I'm amazed at the way the colours and detail are so close to the paintings. How do you do it? It looks incredible."
Jason Devonshire, Melbourne, AUS
26 January, 2019
"Thank you for getting the prints to me in time for Christmas. I really appreciate the extra help you gave."
Rick Johnson, San Francisco, USA
22 December, 2018
"I'm pleased I decided to go with the canvas edition. I really like the texure it gives to the art and your framer was so helpful."
David Dunstan, Melbourne, AUS
4 September, 2018
"Ross' gorgeous prints are hanging in the hall and everyone who visits just loves them! Thanks Stephen for all your help."
Evan Carsley, Boston USA
18 September, 2017