Untitled #01/15 (after Caravaggio,1604; featuring Luke Evans)
Limited Edition Print
Edition of 45
Medium
40 x 34 cm / 16" x 13"
Large
60 x 51 cm / 24" x 20"
Description
This breathtaking painting references Caravaggio's masterpiece John the Baptist, from the collection of the Nelson-Atkins Museum of Art in Kansas City. In 1604 Caravaggio was commissioned to paint a John the Baptist for the papal banker and art patron Ottavio Costa. Costa intended it for an altarpiece for a small oratory in the Costa fiefdom of Conscente, but liked it so much that he sent a copy to the oratory and kept the original in his own collection.

Penny Grist, a curator at the National Portrait Gallery, who curated the museums exhibition Bare:Degrees of Undress, which includes two of Watson's artworks recently wrote "Michael Jacobs in Phaidon's survey of Mythological painting noted that artists from the Renaissance onwards often turned to classical mythology as a fresh humorous and erotic alternative to religious art. In an ingenious appropriation of this tradition, Watson embraces the wild ambiguity of classical allusion and inserts his figures into classical mythology."

Here he creates a dramatic and powerful tension between Caravaggio's intensely brooding and almost impenetrably private St John, who appears to be watching over the contemporary subject, Luke Evans, the film actor. Evans in contrast appears spellbound and possesses a serene expression; lost in his own world, seemingly unaware of St John's intense presence in the wooded setting.

The handsome and charismatic actor is depicted wearing a cream leather hooded jacket - purchased by the artist in the city most identified with Caravaggio, Rome.  A nod by Watson to the tradition in classical painting of depicting saints with cloaks, especially considering celebrity is oft considered modern day sainthood.

The right hands of both figures are virtually identical in position, and both hold something. Only just revealed in Evan's hand is a smart phone, in comparison to the staff held by St John; each a tool of their times used for herding their respective flocks.  The modern saint more likely to do this via social media, in the case of Evans, to millions, controlled by a device in the palm of his hand.

The striking lighting balance in this painting creates a that seamlessly blends the classical and modern. Many scholars have noted St John's figure is contrastly lit which gives him the appearance of sitting forward, into the lighter realm of the views own space. The lighting on Evans is diffused, creating depth to the painting, increasing his realism and creating a harmonious scaling between the figures, placing him quite some way into the foreground. This tension is enhanced by the muted colour palette, which is off-set by the rich and striking red fabric of the cloak upon which St John is leaning.
About Limited Edition Prints
Each Giclee Edition Print is in an edition of 45 and is numbered and hand-signed by the artist immediately below the printed image.
Limited Edition prints are printed using archival museum quality inks on the world's leading textured art paper: Hahnemühle Torchon.
The quality of the Giclee print rivals traditional silver-halide and gelatin printing processes and is commonly found in museums, art galleries, and photographic galleries.
Sizes provided are the unframed image size. A white border of approximately 4 cm is provided to facilitate framing.
We fulfill orders from the lowest available edition number.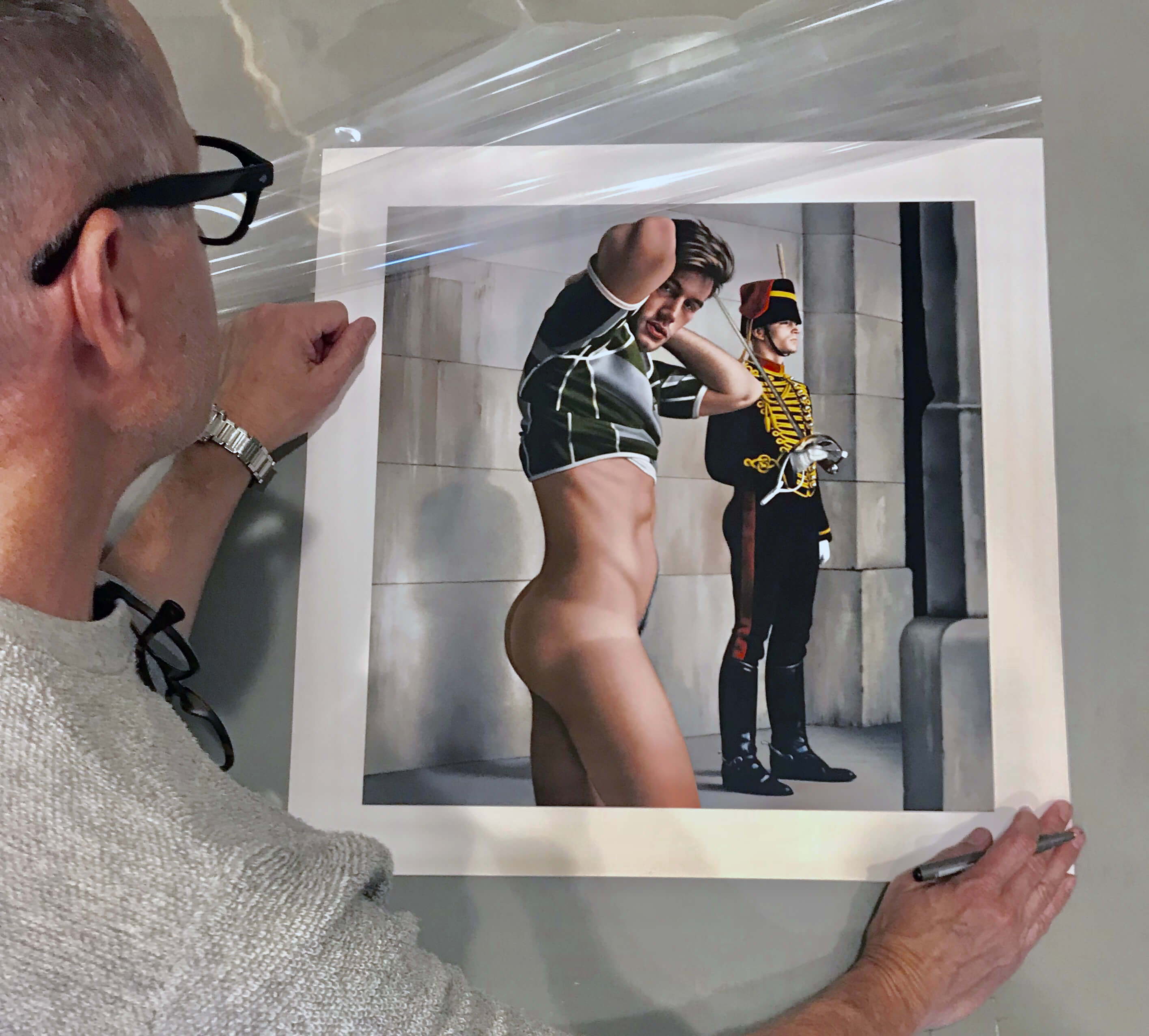 Ross Watson signing an unframed limited edition print
Delivery Information
We offer FREE worldwide fully-insured postage and packaging for all Limited Edition Prints and Photography.
All Limited Edition Prints, Canvases and Photography are sent unframed and packaged in re-enforced postal tubes.
All items will be shipped within 3 business days of receiving payment for your order. Delivery times can vary, but purchases are generally received worldwide within 5-7 business days from dispatch.
Items to be sent domestically will be sent using registered Australian Post. International orders are sent using international postal Express Mail Service (EMS). Tracking details will be provide upon dispatch of your order.
We take pride in getting your prints to you in the perfect condition. Your print will have been individually inspected and packed in perfect condition. Please minimize handling prior to framing.
Collector Testimonials
"Many thanks Stephen for your quick replies and delivery. Ross' prints are already attracting attention from visitors to my home."
Mark Johnston, Manchester UK


"The prints just arrived and look even more beautiful than they do on your website! Thanks I'm impressed you got them here in a week."

Karl Mentz, Miami USA


"Stephen, thanks for you advice on the framing.The canvases are now hung and look super handsome!"

Kent James Los Angeles USA

"Ross has such an amazing talent. I'm loving the canvas prints as I work in my home office. Thank you for your help and speed."
Brent Forster, London UK