Untitled #01/16 (after Caravaggio, 1593; featuring Alex Skinner)
Limited Edition Print
Edition of 45
Medium
34 x 40 cm / 13" x 16"
Large
50 x 60 cm / 20" x 24"
Extra Large
63 x 75 cm / 25" x 30"
Description
One of Ross Watson's most personal artworks, Untitled 01/16 (after Caravaggio, 1593; featuring Alex Skinner) took over 3 months to complete, and explores the fragility of life.
Referencing Carvaggio's Boy with a Basket of Fruit, c.1593, featuring the Caravaggio's companion Mario Minniti, who engages us whilst holding a basket of fruit.
Holding a laptop on the painting's right side is Mario's contemporary counterpart, Alex Skinner. The artist's thoughtful composition places Skinner before the right side of the basket, and importantly, a prominent yellowing grape leaf. In contrast to Mario he looks down, apparently contemplating the grape leaf which Watson has featured on the luminous screen in bright artificial light.
Highly significant is that the leaf shows disorders: fungal spots, and we can imagine it is about to fall. Watson's Skinner presents it, just as Mario presents the basket of fruit.
Unprecedented for Watson's art is his painted depiction of part of a classical painting on modern technology, rendered in the bright artificial light from a laptop screen, the very kind we today look at on a daily basis.
We may consider the two young men, the basket's immaculate fruit, and the natural process of decay that is part of all living things. We are reminded that everything in life is transitory - an apparently delicious collection of fruit is not destined to survive for long.
About Limited Edition Prints
Each Giclee Edition Print is in an edition of 45 and is numbered and hand-signed by the artist immediately below the printed image.
Limited Edition prints are printed using archival museum quality inks on the world's leading textured art paper: Hahnemühle Torchon.
The quality of the Giclee print rivals traditional silver-halide and gelatin printing processes and is commonly found in museums, art galleries, and photographic galleries.
Sizes provided are the unframed image size. A white border of approximately 4 cm is provided to facilitate framing.
We fulfill orders from the lowest available edition number.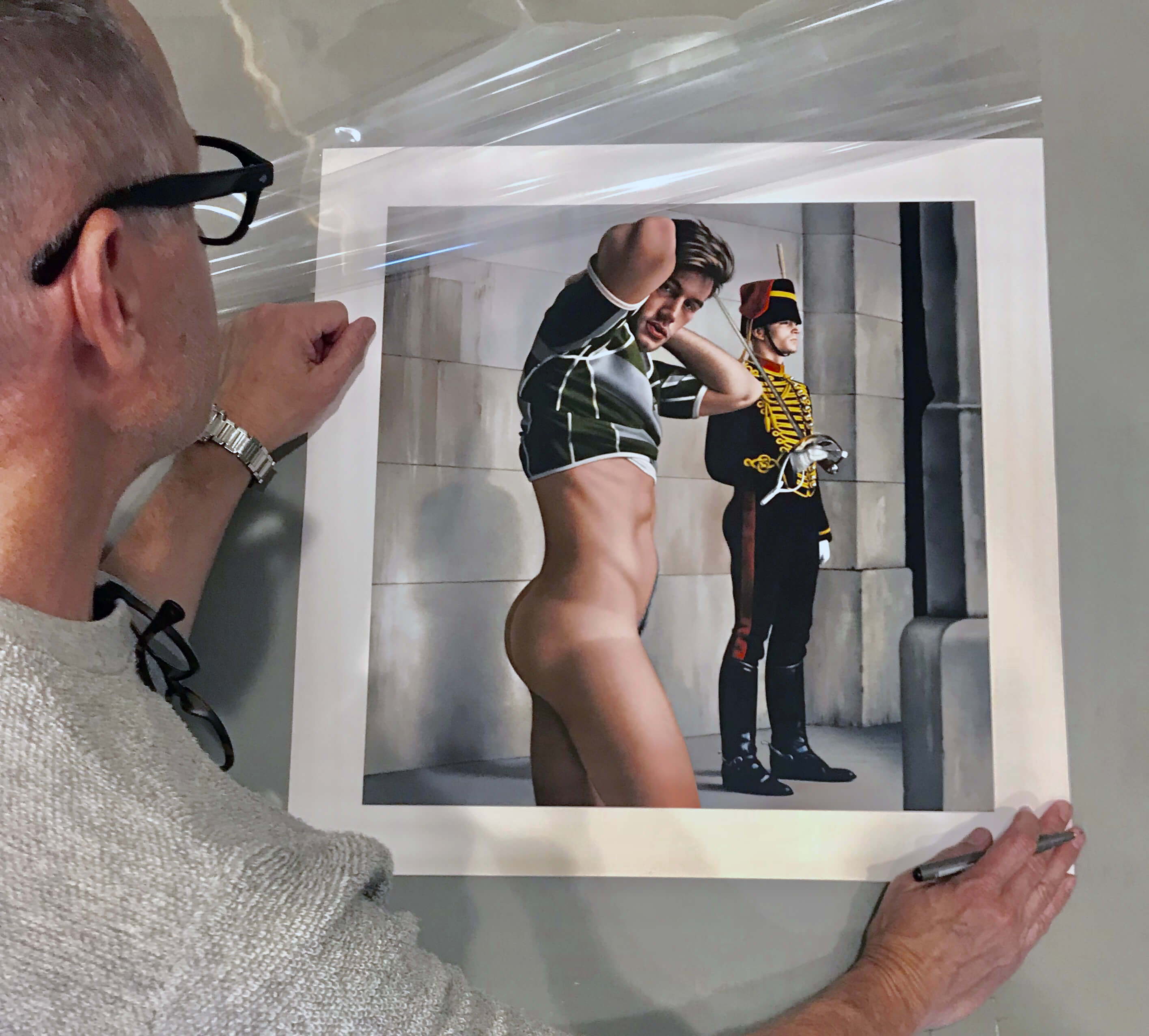 Ross Watson signing an unframed limited edition print
Delivery Information
We offer FREE worldwide fully-insured postage and packaging for all Limited Edition Prints and Photography.
All Limited Edition Prints, Canvases and Photography are sent unframed and packaged in re-enforced postal tubes.
All items will be shipped within 3 business days of receiving payment for your order. Delivery times can vary, but purchases are generally received worldwide within 5-7 business days from dispatch.
Items to be sent domestically will be sent using registered Australian Post. International orders are sent using international postal Express Mail Service (EMS). Tracking details will be provide upon dispatch of your order.
We take pride in getting your prints to you in the perfect condition. Your print will have been individually inspected and packed in perfect condition. Please minimize handling prior to framing.
Collector Testimonials
"Many thanks Stephen for your quick replies and delivery. Ross' prints are already attracting attention from visitors to my home."
Mark Johnston, Manchester UK


"The prints just arrived and look even more beautiful than they do on your website! Thanks I'm impressed you got them here in a week."

Karl Mentz, Miami USA


"Stephen, thanks for you advice on the framing.The canvases are now hung and look super handsome!"

Kent James Los Angeles USA

"Ross has such an amazing talent. I'm loving the canvas prints as I work in my home office. Thank you for your help and speed."
Brent Forster, London UK