Untitled #02/18 (after Caravaggio, 1607)
Limited Edition Print Details
Edition of 45
Medium
38 x 40 cm / 15" x 16"
Large
57 x 60 cm / 23" x 24"
Extra Large
76 x 80 cm / 30" x 32"
Other Edition Print Options
Description
Immediately apparent to followers of Watson's art is that this extraordinary work is the first to introduce a complete masterpiece by Caravaggio into a 21st Century scene, as apposed to introducing contemporary models painted within the classical work - an important and significant development in the Australian artist's ouvre.
Once again, and without altering the Renaissance artist's composition or proportions, Watson has created a compelling scene with his first reference of Caravaggio's iconic 'David with the Head of Goliath' integrated into a construction scene featuring a ruggedly, masculine plumber and iconography we immediately associate with warning and danger.
Caravaggio famously spotted many of his subjects in the street and many of these were working class men and women. Watson photographed this plumber working in the street near his Melbourne home. His expression is tense as he eyes David, and subtle but discernible splatters of blood on his arms render his inclusion in the scene convincing. Strongly reinforcing the violent tension in the classical reference.
The fluorescent road worker sign evokes Caravaggio's street workers, and Watson's strategically placed gold and white arrows draws the viewer's eyes upwards, whilst David's clenched left hand forms a powerful visual triangle with the white diagonal bands below.
In 1616, The Prince of Wales, who became King Charles I of England bought Caravaggio's David with the Head of Goliath, ironically, his eventual death was by beheading. This painting of 'David' was Caravaggio's last painting of a young man called Cecco, whom he had painted several times.
About Limited Edition Prints
Each Giclee Edition Print is in an edition of 45 and is numbered and hand-signed by the artist immediately below the printed image.
Limited Edition prints are printed using archival museum quality inks on the world's leading textured art paper: Hahnemühle Torchon.
The quality of the Giclee print rivals traditional silver-halide and gelatin printing processes and is commonly found in museums, art galleries, and photographic galleries.
Sizes provided are the unframed image size. A white border of approximately 4 cm is provided to facilitate framing.
We fulfill orders from the lowest available edition number.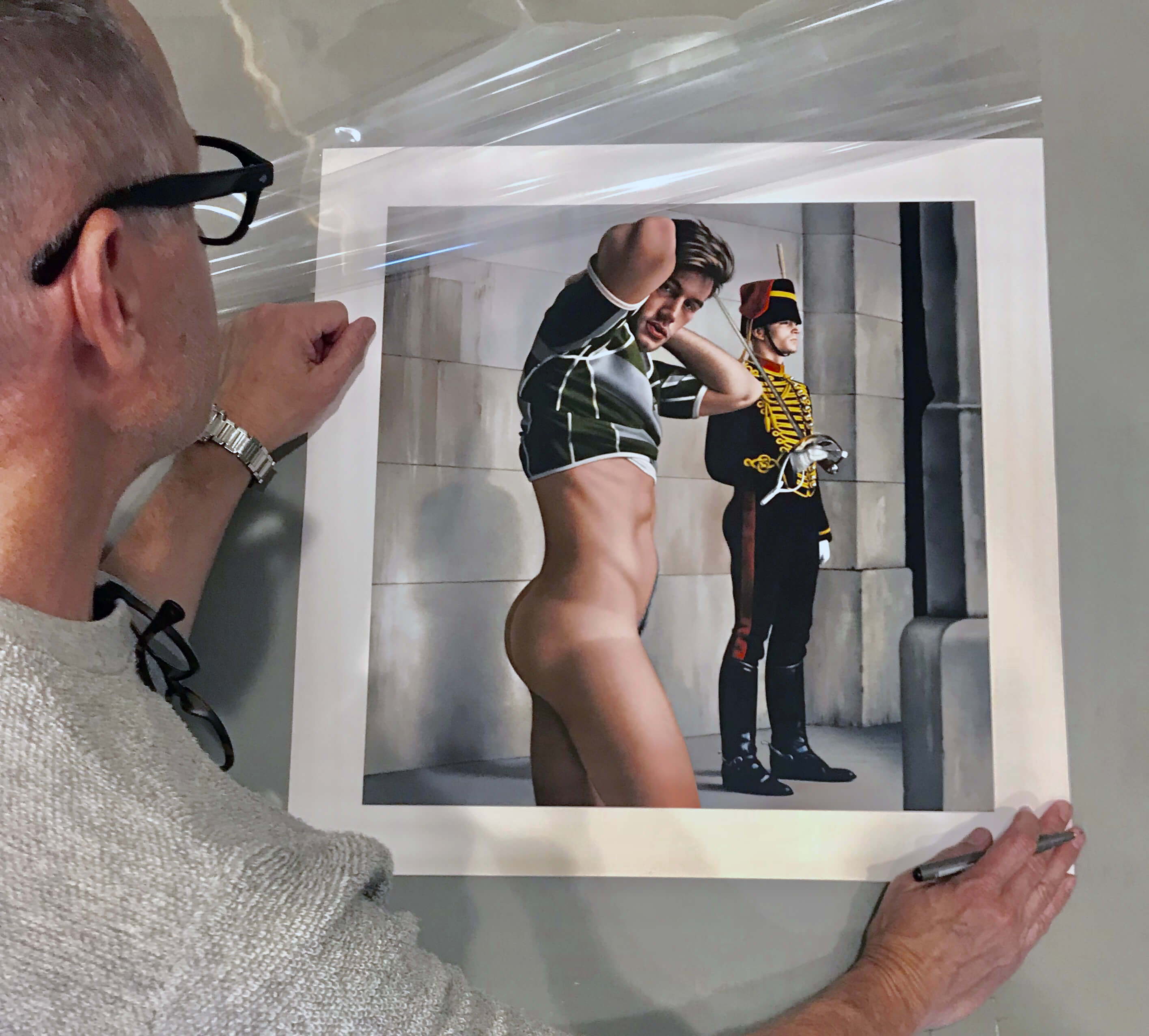 Ross Watson signing an unframed limited edition print
Delivery Information
We offer FREE worldwide fully-insured postage and packaging for all Limited Edition Prints and Photography.
All Limited Edition Prints, Canvases and Photography are sent unframed and packaged in re-enforced postal tubes.
All items will be shipped within 3 business days of receiving payment for your order. Delivery times can vary, but purchases are generally received worldwide within 5-7 business days from dispatch.
Items to be sent domestically will be sent using registered Australian Post. International orders are sent using international postal Express Mail Service (EMS). Tracking details will be provide upon dispatch of your order.
We take pride in getting your prints to you in the perfect condition. Your print will have been individually inspected and packed in perfect condition. Please minimize handling prior to framing.
Collector Testimonials
"Many thanks Stephen for your quick replies and delivery. Ross' prints are already attracting attention from visitors to my home."
Mark Johnston, Manchester UK


"The prints just arrived and look even more beautiful than they do on your website! Thanks I'm impressed you got them here in a week."

Karl Mentz, Miami USA


"Stephen, thanks for you advice on the framing.The canvases are now hung and look super handsome!"

Kent James Los Angeles USA

"Ross has such an amazing talent. I'm loving the canvas prints as I work in my home office. Thank you for your help and speed."
Brent Forster, London UK