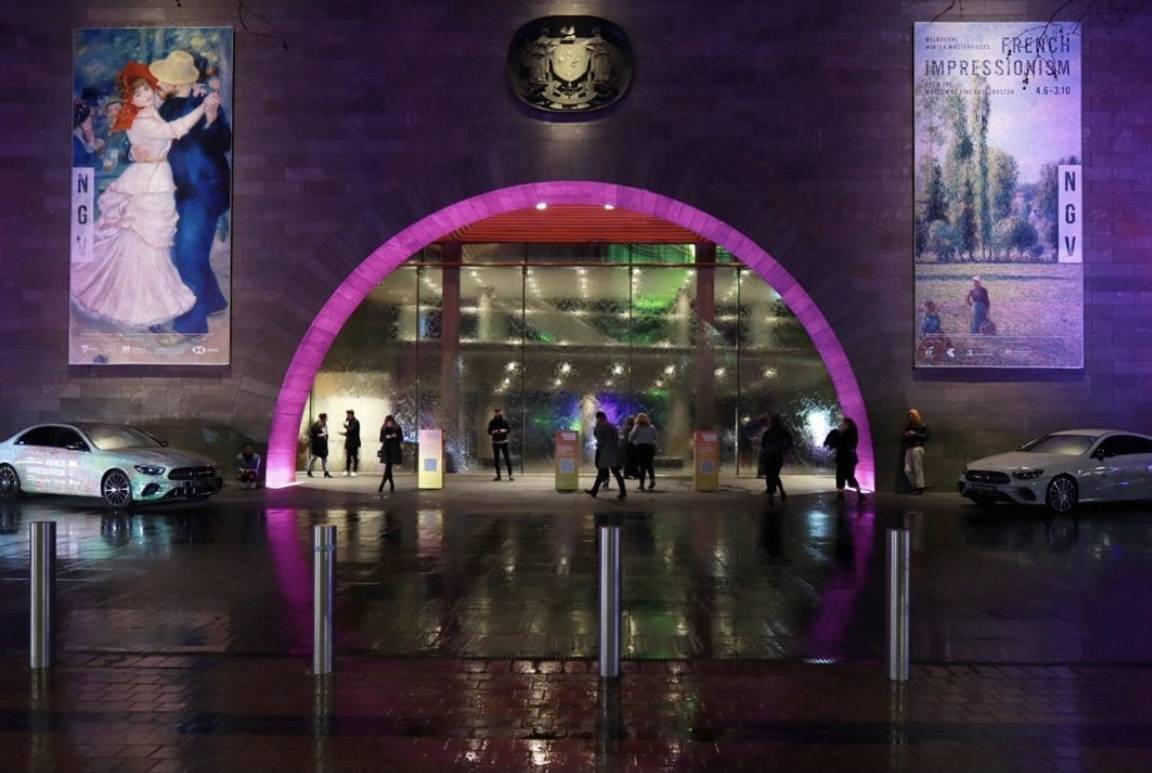 Ross Watson's art will feature in the groundbreaking major exhibition QUEER at the National Gallery of Victoria International opening 10th December.

Senior curator of International art, Tedd Gott, has selected around 400 artworks which tell stories of gay and lesbian lives, aesthetics and artists from ancient Egypt to today.
10 Dec 2021 – Jun 2022
9am – 5pm
Daily
NGV International
180 St Kilda Rd, Melbourne
Victoria, Australia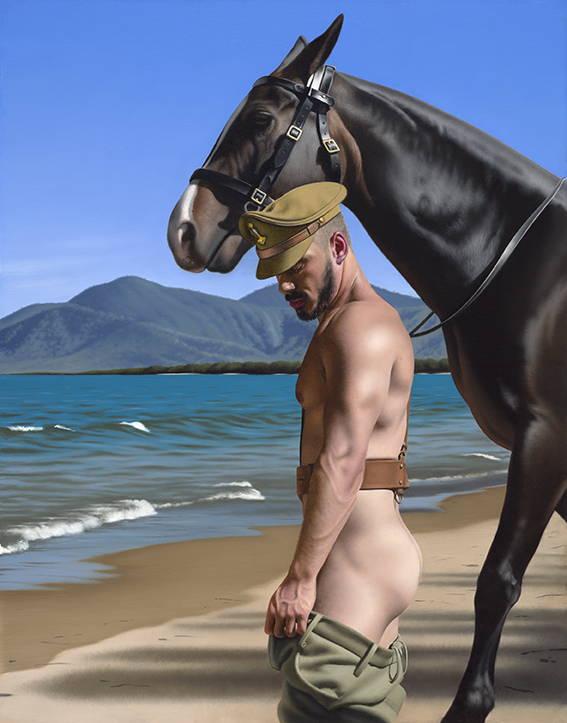 Celebrating the 20th Anniversary of the
Ross Watson Gallery
CONCLUDED
26 April - 9 May, 2021
11am - 5pm
Saturday and Sunday
ROSS WATSON GALLERY
465 Nicholson St, Carlton North
Melbourne, Australia
Viewing now by appointment only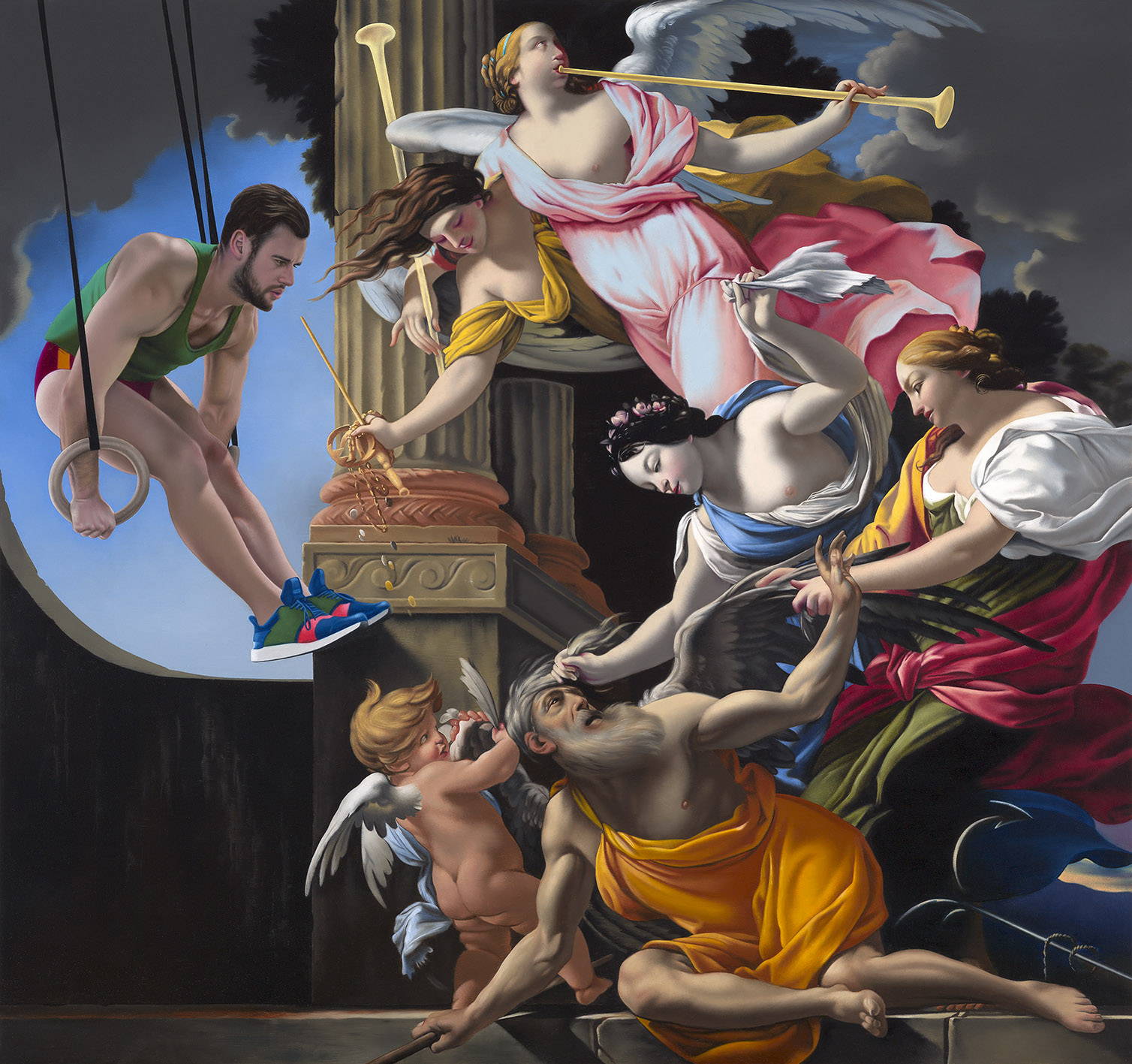 PAST EXHIBITIONS
Australian Book Launch and Exhibition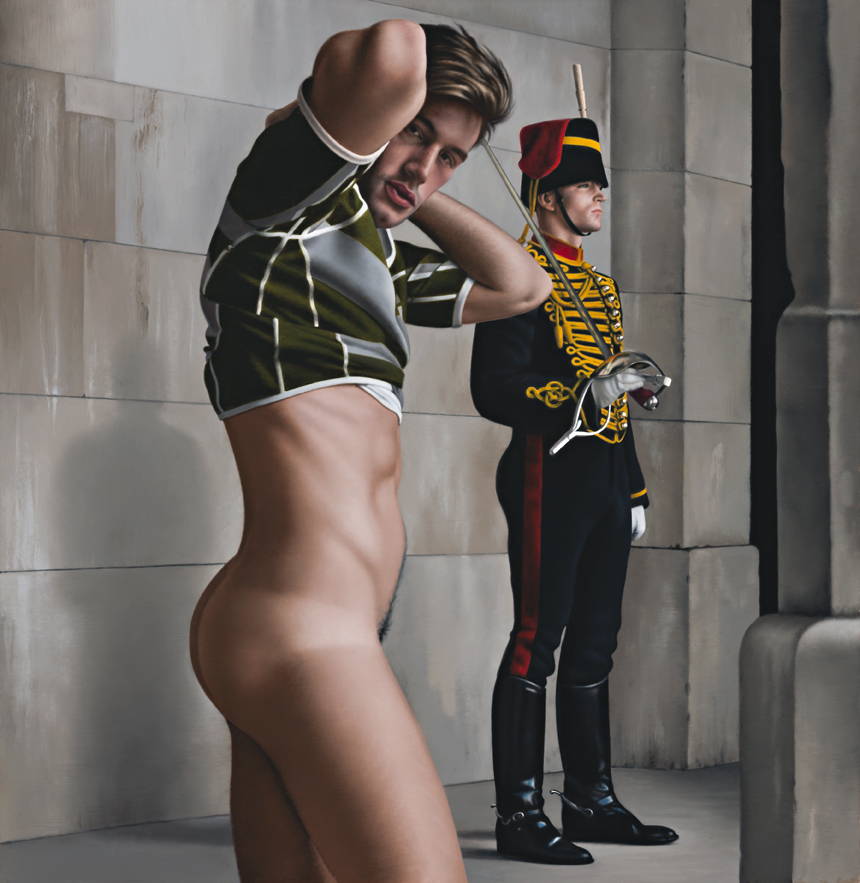 19 February - 1 March, 2020
11am - 6pm
Daily
ARO GALLERY
51 William Street, Darlinghurst
Premier Event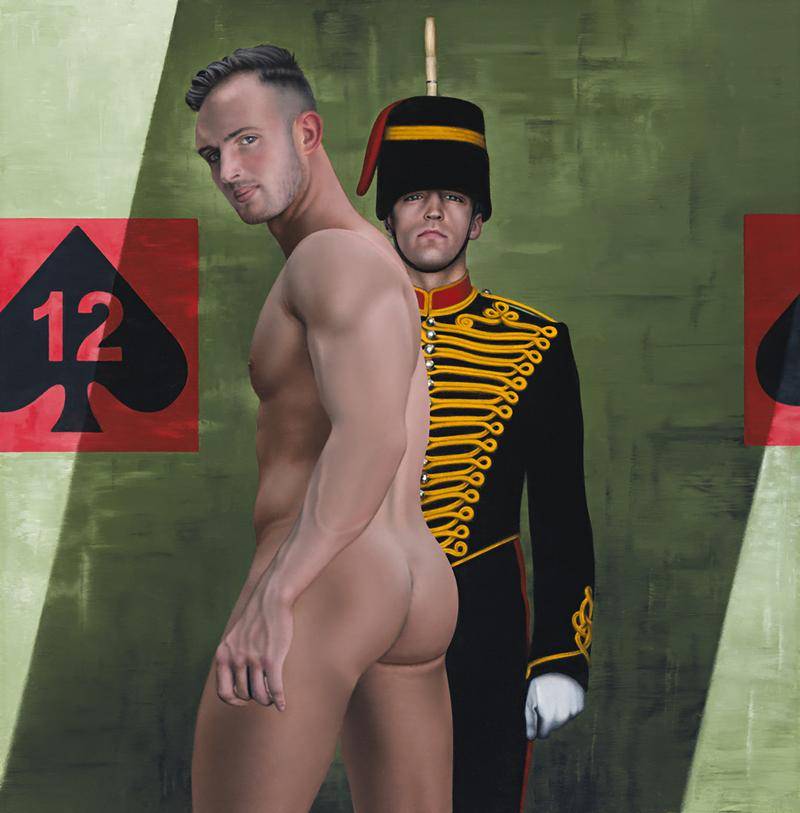 WorldPrideNYC | Stonewall 50
17 - 30 June 2019

We would like to thank our valued collectors and attendees for making this the most successful exhibition in Ross Watson's 35 year career.
For any follow up or further information please email: enquiries@rosswatson.com

Rogue Space | Chelsea

508-526 West 26th St, 9th Floor
New York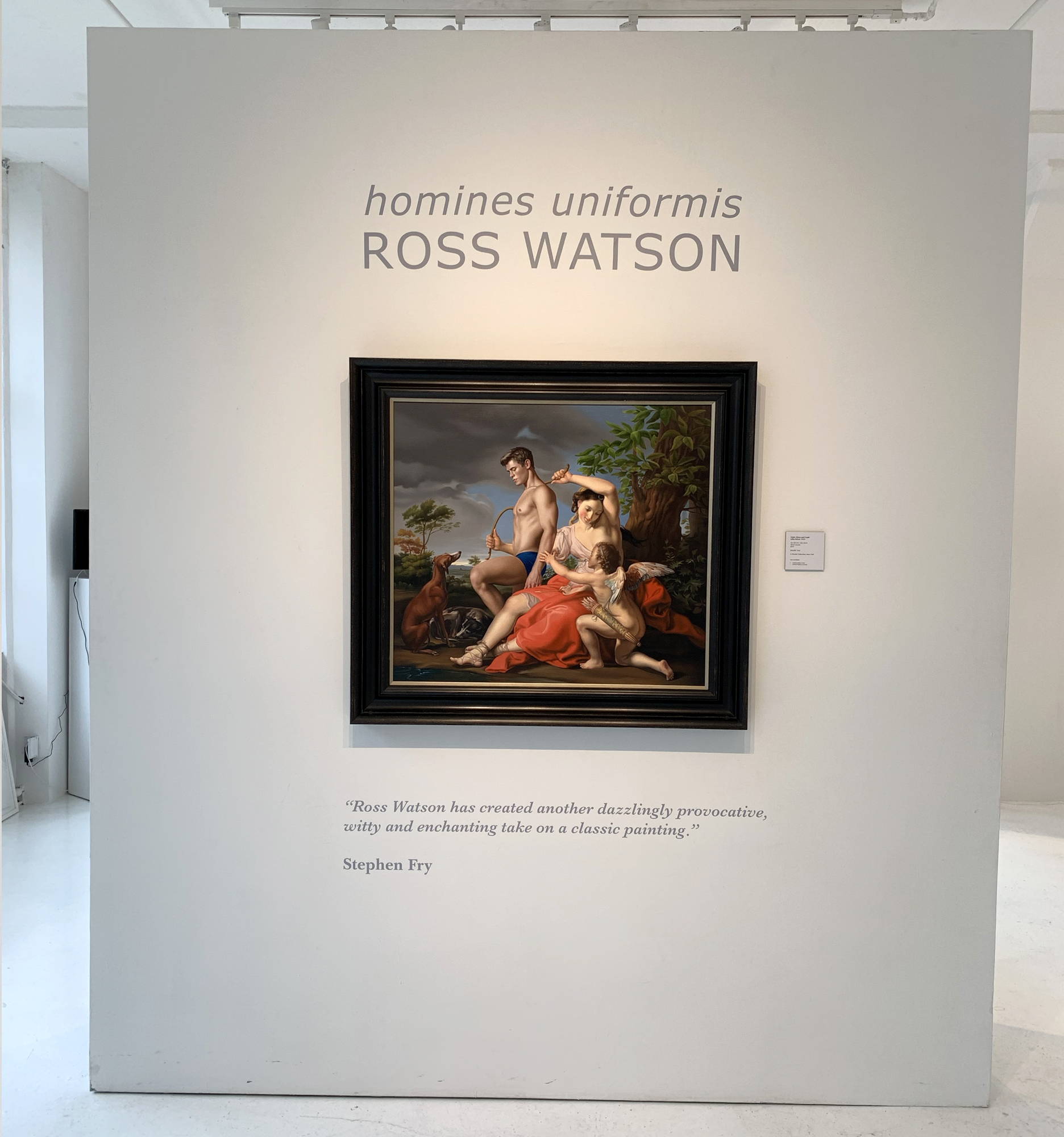 The single official visual arts event of WorldPrideNYC, this unmissable exhibition, homines uniformis and Book Launch at Rogue Space | Chelsea, adjacent to the High Line, features Ross Watson's stunning, highly detailed homoerotic paintings, which have earned him a global following including the National Gallery of Australia, Sir Elton John and Sir Ian McKellen.
With the artist in attendance, learn first-hand about his style, his intentions and the stories behind the artworks, which possess a distinctive cross-cultural milieu, and celebrate the male form.
Watson devoted two months to painting a spectacular centerpiece for the exhibition, inspired by the Metropolitan Museum masterpiece, Diana and Cupid by Pompeo Batoni, and features Bel Ami star Dolph Lambert.
Paintings, Limited Edition Canvases and Limited Edition Prints are available to purchase, alongside first edition copies of Watson's brand new art book, Untitled II, which may be signed by the artist.
A full multi-media experience awaits each visitor at the exhibition with video presentations on the artist's work offering insight into the creative process and final sentiment.
Ross Watson's first solo exhibition in NYC promises to be a WorldPrideNYC festival favourite, and follows sold out exhibitions in Los Angles, London, Berlin, Toronto, Sydney and Melbourne.

"He's a leader in contemporary realism."
Sir Elton John
"Ross Watson's paintings are obviously the work of a master of technique. The conjunction of modern naturalism and classic works makes it hard to believe one's eyes."
Sir Ian McKellen

"Oh goodness, your works get sexier and sexier and more and more accomplished - lost in admiration."
Stephen Fry

"Ross Watson has become one of the world's foremost painters of the male figure, creating some of the most stunning erotic art."
Gay Star News, London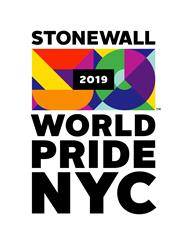 2021
20th Anniversary Exhibition, Ross Watson Gallery, Melbourne, Australia
2020
Australian Book Launch and Exhibition, Aro Gallery, Sydney, Australia
2019
Australian Book Launch and Exhibition, Ross Watson Gallery, Melbourne, Australia
homines uniformis, WorldPrideNYC | Stonewall 50, Rogue Space | Chelsea, New York, USA

PreviewWorldPrideNYC, Ross Watson Gallery, Melbourne, Australia

2018

hominus uniformis Mardi Gras Festival Premier Event Exhibition, Yellow House Gallery, Sydney, Australia

Limited Edition: One Weekend Only, Ross Watson Gallery, Melbourne, Australia

2017

Mardi Gras Festival Premier Event Exhibition, Yellow House Gallery, Sydney, Australia

hominus uniformis, Ross Watson Gallery, Melbourne, Australia

2016

Censored Nudes, Ross Watson Gallery, Melbourne, Australia

Recent Paintings in November, Ross Watson Gallery, Melbourne, Australia

2015

15 Year Gallery Anniversary Exhibition, Depot Gallery, Sydney, Australia

15 Year Gallery Anniversary Exhibition, Ross Watson Gallery, Melbourne, Australia

2014

Ross Watson Toronto World Pride Festival Exhibition, IX Gallery, Toronto, Canada

010:COAST, Ross Watson Gallery, Melbourne, Australia

010:COAST, Depot Gallery, Sydney, Australia

2013

Midsumma Festival Exhibition, Ross Watson Gallery, Melbourne, Australia

2012

Ross Watson Exhibition, The Redchurch Street Gallery, London U.K.Cycles&Sequences, Ross Watson Gallery, Melbourne, Australia

2011

Myth and Reality, Depot Gallery, Sydney, Australia

Myth and Reality, Ross Watson Gallery, Melbourne, Australia

2010

Myth and Reality, Galerie Habsburg, Cologne, Germany

Classic De Novo II, Ross Watson Gallery, Melbourne, Australia

Classic De Novo II, Depot Gallery, Sydney, Australia

2009

Classic De Novo, Maison Victor Kunsthof, Berlin, Germany
Classic De Novo, Ross Watson Gallery, Melbourne, Australia
Classic De Novo, Depot Gallery, Sydney, Australia

2008

Silence, Ross Watson Gallery, Melbourne, Australia

Silence, Depot Gallery, Sydney, Australia

2007
Overview, Gallery 27, London, United Kingdom

Overview, Ross Watson Gallery, Melbourne, Australia

Overview, Depot II Gallery, Sydney, Australia

2006

Gallery 27, London, United Kingdom

2006 Commonwealth Games Exhibition, Melbourne City Hall, Australia

Catalogue XVII, Ross Watson Gallery, Melbourne, Australia

2005

Kirketon Gallery, Sydney, Australia

Ross Watson Gallery, Melbourne, Australia

2004

The Spirit of Football, National Gallery of Victoria, Melbourne, Australia

Kirketon Gallery, Sydney, Australia

Ross Watson Gallery, Melbourne, Australia
2003
Ross Watson Gallery, Melbourne, Australia
2002

Wallflower, National Gallery of Victoria, Melbourne, Australia

Kirketon Gallery, Sydney, Australia

The Sydney 2002 Gay Games Cultural Festival, Australia

Ross Watson Gallery, Melbourne, Australia

2001

Kirketon Gallery, Sydney, Australia

Ross Watson Gallery, Melbourne, Australia

Toronto International Artfair, Toronto, Ontario, Canada

2000

Kirketon Gallery, Sydney, AustraliaRoss Watson Gallery, Melbourne, Australia

1999

The Ritz-Carlton, Double Bay, Sydney, Australia

Daimaru Gallery, Melbourne, Australia

1998

Cintra Galleries, Brisbane, Australia

1997

Recent Acquisitions of Contemporary Australian Art, National Gallery of Victoria, Melbourne, Australia

Daimaru Gallery, Melbourne, Australia

1996

Couturier Gallery, Los Angeles, Ca., USA (together with Stanley Stellar, photographs)Cintra Galleries, Brisbane, Australia

1995

Robin Gibson Gallery, Sydney, Australia

Daimaru Gallery, Melbourne, Australia

1994

Don't Leave Me This Way: Art In The Age of AIDS, National Gallery of Australia, Canberra, Australia

Sotheby's G.M.H.C. Auction, Sotheby's New York, NY, USA

Dislocations, National Gallery of Victoria, Melbourne, Australia

1993

Robin Gibson Gallery, Sydney, Australia

Melbourne Contemporary Art Gallery, Melbourne, Australia

1992

Cintra Galleries, Brisbane, Australia

1991

Robin Gibson Gallery, Sydney, Australia

Melbourne Contemporary Art Gallery, Melbourne, Australia

1990

Robin Gibson Gallery, Sydney, Australia

Moet & Chandon Touring Exhibition

1989

Heidelberg and Heritage Exhibition, Linden Gallery, Melbourne, Australia

Robin Gibson Gallery, Sydney, Australia

1988

Imaging AIDS, A.C.C.A., Melbourne, Australia

St. Kilda Acquisitive Art Prize Exhibition, Melbourne, Australia

1987

Robin Gibson Gallery, Sydney, Australia

1986

Robin Gibson Gallery, Sydney, Australia

1985

Profile Gallery, Melbourne, Australia

1984

Acland Street Gallery, Melbourne, Australia