Untitled #02/12 (after Caravaggio, 1594; featuring Luke Evans)
Limited Edition Print
Edition of 45
Medium
34 x 40 cm / 13" x 16"
Large
52 x 60 cm / 20" x 24"
Description
Luke Evans' inclusion in Caravaggio's Cardsharps appears to increase the sense of tension and suspense in this dramatic painting.
Luke Evans modeled for Watson during the filming of the Hobbit in New Zealand, playing the role of 'Bard the Bowman'. The handsome and charismatic Evans' career has the trajectory of a rocket, starring in 'The Raven', 'The Three Musketeers' and 'The Immortals'.
A most subtle, though significant detail, is Evans holding his iPhone which resembles a playing card. It is Watson's intention to communicate how pervasive social media has become in our society. With instant access from smart phones we are now constantly in contact with each other. The benefits are vast, often at the sacrifice of privacy. Used thoughtlessly or with malice, it can unfortunately result in the same ingredients inherent in Caravaggio's Cardsharps - dishonest misrepresentations and betrayal.
When Caravaggio painted the Cardsharps, he offered something new to the renaissance art-world; realistic scenes of street life, especially with beautifully rendered attention to little details such as the backgammon board or the teenage cheat's anxious glance at his master. In Watson's version the psychological insight is striking, the four figures are bound together by a common drama, yet each has his own unique role within the larger play.
Cardsharps with its mixture of brutal low-life realism and luminous Venetian delicacy, was much admired when it was first exhibited. Over fifty copies and variants made by other painters have survived to this day.
About Limited Edition Prints
Each Giclee Edition Print is in an edition of 45 and is numbered and hand-signed by the artist immediately below the printed image.
Limited Edition prints are printed using archival museum quality inks on the world's leading textured art paper: Hahnemühle Torchon.
The quality of the Giclee print rivals traditional silver-halide and gelatin printing processes and is commonly found in museums, art galleries, and photographic galleries.
Sizes provided are the unframed image size. A white border of approximately 4 cm is provided to facilitate framing.
We fulfill orders from the lowest available edition number.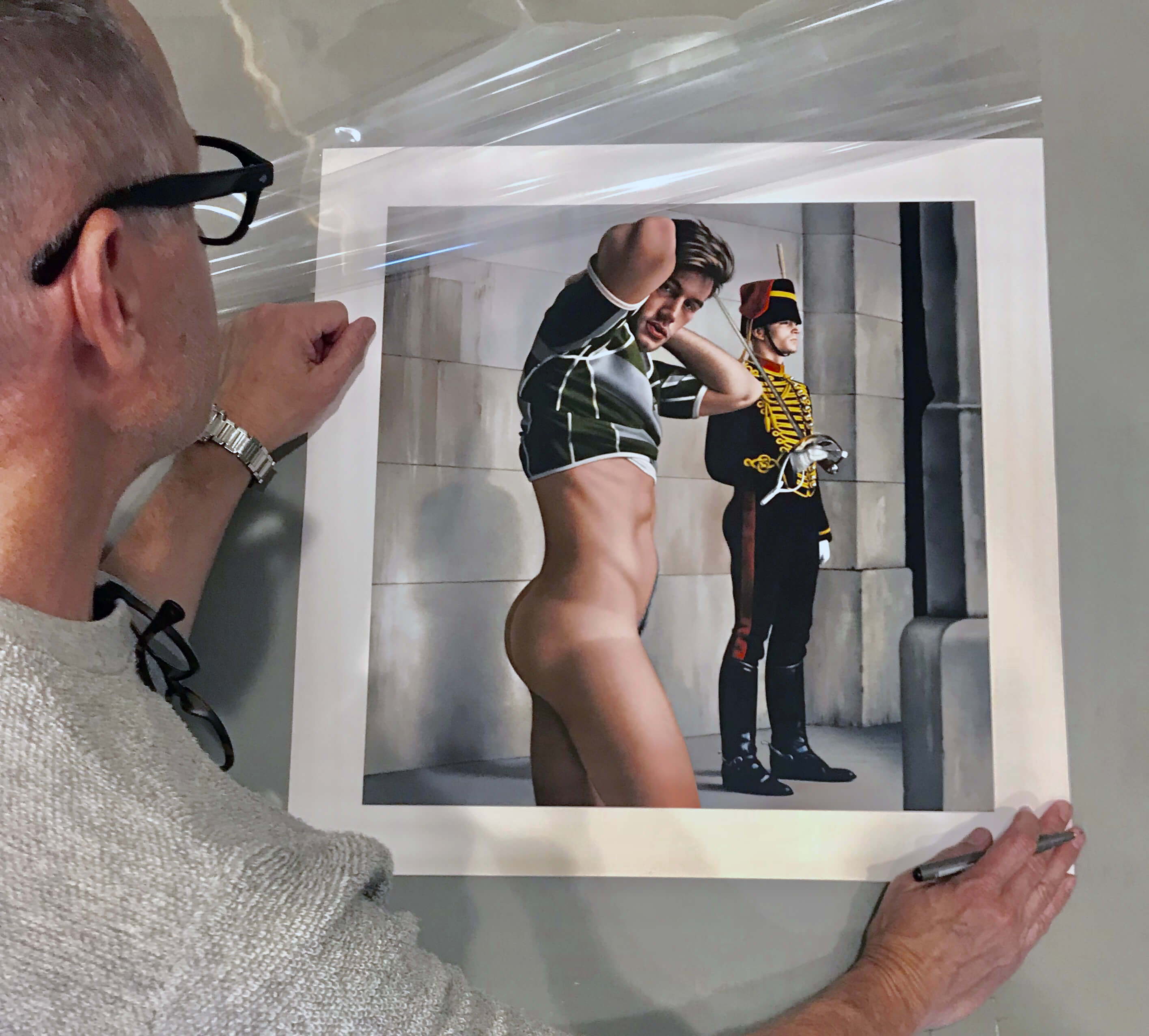 Ross Watson signing an unframed limited edition print
Delivery Information
We offer FREE worldwide fully-insured postage and packaging for all Limited Edition Prints and Photography.
All Limited Edition Prints, Canvases and Photography are sent unframed and packaged in re-enforced postal tubes.
All items will be shipped within 3 business days of receiving payment for your order. Delivery times can vary, but purchases are generally received worldwide within 5-7 business days from dispatch.
Items to be sent domestically will be sent using registered Australian Post. International orders are sent using international postal Express Mail Service (EMS). Tracking details will be provide upon dispatch of your order.
We take pride in getting your prints to you in the perfect condition. Your print will have been individually inspected and packed in perfect condition. Please minimize handling prior to framing.
Collector Testimonials
"I'm amazed at the way the colours and detail are so close to the paintings. How do you do it? It looks incredible."
Jason Devonshire, Melbourne, AUS
26 January, 2019
"Thank you for getting the prints to me in time for Christmas. I really appreciate the extra help you gave."
Rick Johnson, San Francisco, USA
22 December, 2018
"I'm pleased I decided to go with the canvas edition. I really like the texure it gives to the art and your framer was so helpful."
David Dunstan, Melbourne, AUS
4 September, 2018
"Ross' gorgeous prints are hanging in the hall and everyone who visits just loves them! Thanks Stephen for all your help."
Evan Carsley, Boston USA
18 September, 2017