Time (after Vouet, 1645; featuring James)
Limited Edition Print Details
Edition of 45
Medium
38 x 40 cm / 15" x 16"
Large
56 x 60 cm / 22" x 24"
Extra Large
75 x 80 cm / 29" x 31"
Other Edition Print Options
Description
This exceptional new painting is one of Ross Watson's most accomplished and detailed large scale paintings to date. The work explores the narrative of Time, referencing Simon Vouet's Baroque masterpiece Time Vanquished by Love, Hope and Fame, 1645.
An astonishingly dramatic scene has been skilfully developed and reinforced by Watson's extension of the left side of the composition of the classical picture. The addition of James, who hovers suspended, transfixed by the drama unfolding below brilliantly transforms Vouet's semi circular composition to a dynamic complete circle.
During the lock downs associated with the pandemic, Watson has utilised this period to reflect. Returning again and again to the themes of Time, Love and Hope, This led to the painting's concept and narrative which materialised during Melbourne's lock down last October as he spotted the model James in a park exercising on Olympic rings.
Vouet's allegorical composition depicts six classical figures. The foreground features an elderly man representing Time. A cherub torments him pulling at his wing, and Love and Hope in the centre pull at his hair and wing. Above them Fame calls for eternal public and social recognition from her horn. Watson's introduction of James, with his athleticism, hope and ambition is the embodiment of Youth. His life, as with his gaze, in full swing, stretching out ahead of him as he observes the mythological scene. The introduction of this youthful figure, contrasts the finality of Vouet's original composition and reimagines a narrative of life that is cyclical and continuing.
A Parisian, Vouet began his career in Italy. Similarly to Watson, his earlier works reflect the influence of Caravaggio, and features the characteristic dramatic contrast in light and shadow present in this work, which is considered one of his greatest.
Reviewing Watson's past classical works, Time possesses not only exceptional composition and theatrical drama, but also the most varied and richly dazzling colour palette. As the artist approaches his 60th year, this arresting and important artwork marks the entry into the late stage of his career.
About Limited Edition Prints
Each Giclee Edition Print is in an edition of 45 and is numbered and hand-signed by the artist immediately below the printed image.
Limited Edition prints are printed using archival museum quality inks on the world's leading textured art paper: Hahnemühle Torchon.
The quality of the Giclee print rivals traditional silver-halide and gelatin printing processes and is commonly found in museums, art galleries, and photographic galleries.
Sizes provided are the unframed image size. A white border of approximately 4 cm is provided to facilitate framing.
We fulfill orders from the lowest available edition number.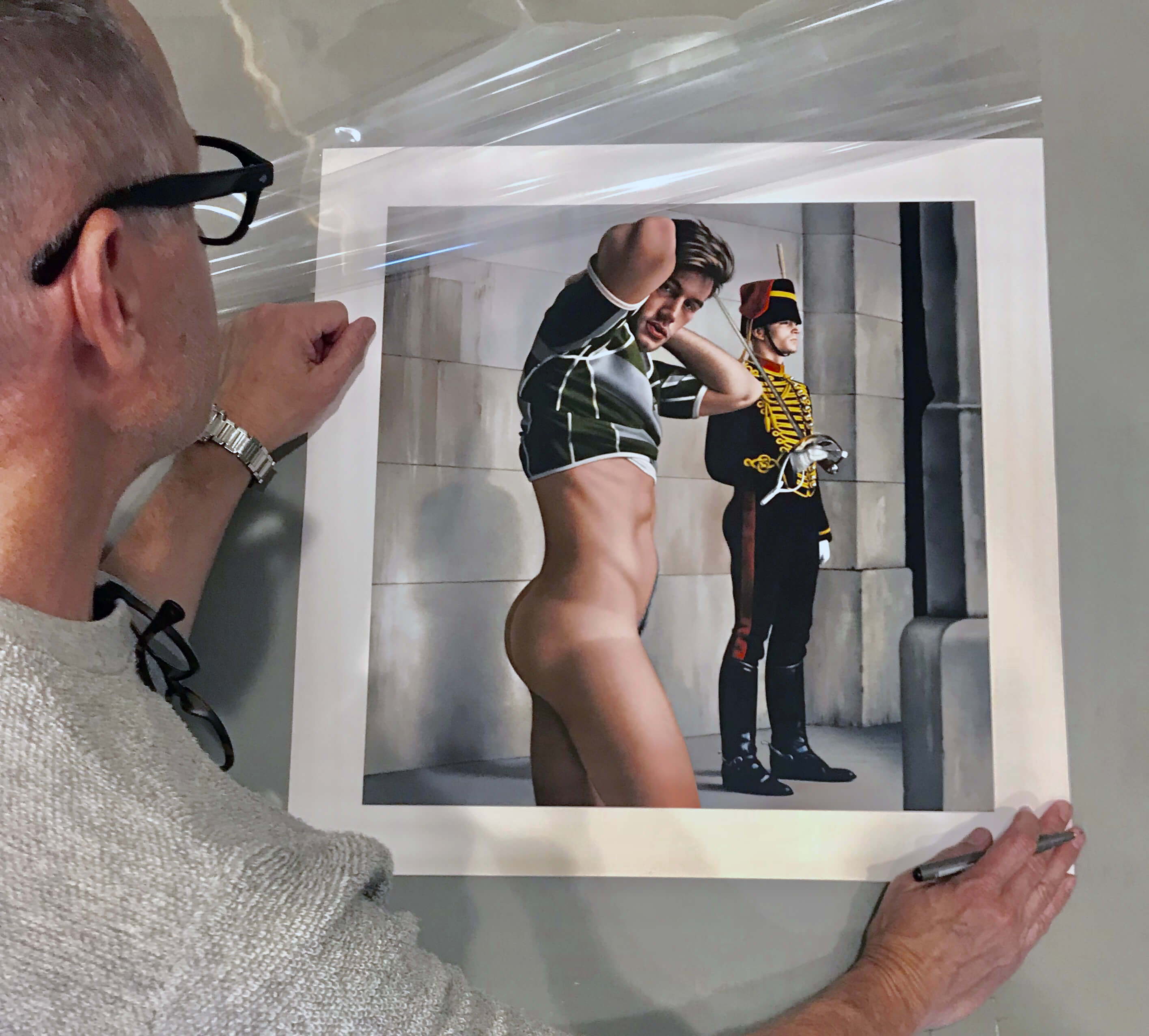 Ross Watson signing an unframed limited edition print
Delivery Information
We offer FREE worldwide fully-insured postage and packaging for all Limited Edition Prints and Photography.
All Limited Edition Prints, Canvases and Photography are sent unframed and packaged in re-enforced postal tubes.
All items will be shipped within 3 business days of receiving payment for your order. Delivery times can vary, but purchases are generally received worldwide within 5-7 business days from dispatch.
Items to be sent domestically will be sent using registered Australian Post. International orders are sent using international postal Express Mail Service (EMS). Tracking details will be provide upon dispatch of your order.
We take pride in getting your prints to you in the perfect condition. Your print will have been individually inspected and packed in perfect condition. Please minimize handling prior to framing.
Collector Testimonials
"Many thanks Stephen for your quick replies and delivery. Ross' prints are already attracting attention from visitors to my home."
Mark Johnston, Manchester UK


"The prints just arrived and look even more beautiful than they do on your website! Thanks I'm impressed you got them here in a week."

Karl Mentz, Miami USA


"Stephen, thanks for you advice on the framing.The canvases are now hung and look super handsome!"

Kent James Los Angeles USA

"Ross has such an amazing talent. I'm loving the canvas prints as I work in my home office. Thank you for your help and speed."
Brent Forster, London UK