Untitled #01/12 (after Caravaggio, 1600; featuring Kris Evans)
Limited Edition Print Details
Edition of 45
Medium
40 x 35 cm / 16" x 14"
Large
60 x 54 cm / 24" x 21"
Other Edition Print Options
Description
The Calling of St Matthew' is one of Caravaggio's great religious works, and hangs in the Contarelli Chapel in Rome. Watson has relished viewing it numerous times, revisiting it again in July 2011.

His superb most recent painting references Carvaggio's masterpiece, where Bel Ami's Kris Evans kneels spectacularly centre-stage, and is convincingly portrayed participating in the scene. Lit by the dramatic diagonal light, Evans is skillfully positioned so as not to obscure the bearded tax gatherer, Levi, and his colleagues. In the foreground are an accounting book, an inkwell, a moneybag, and Evans joins in assisting in counting coins at the table. The older, bearded man is the most prominent figure amongst the group of tax collectors; he looks directly at the new arrivals and with the gesture of his left hand relates the summons unmistakably to himself.

In the 'The Calling of St Matthew' Caravaggio chose to highlight only Jesus' face and hand. Watson has taken this a step further cropping a portion from the right-side, thereby highlighting the extended arms of Jesus and St Peter commanding to follow them? Who though will rise in order to follow unreservedly his calling to be a disciple? Watson's choice of Evans positioned centre-stage is in keeping with who Jesus called as disciples and ministered to.

Caravaggio often had to grapple with the particular requirements that pictures destined for a sacred setting were expected to fulfill with regards to the stipulations of decorum. Watson's addition of Evans kneeling on the table echoes Caravaggio's revolutionary presentation of his subjects. It would appear unremarkable to many in the 21st century, though would without doubt have been rejected as a commissioned work by church authorities in the early 17th century. Whilst Evan's career choice is condemned by some, this fine painting evokes the compassion and differentiation inherent in many catholics today to issues of morality, which in contrast, the Vatican continues to condemn.
About Limited Edition Prints
Each Giclee Edition Print is in an edition of 45 and is numbered and hand-signed by the artist immediately below the printed image.
Limited Edition prints are printed using archival museum quality inks on the world's leading textured art paper: Hahnemühle Torchon.
The quality of the Giclee print rivals traditional silver-halide and gelatin printing processes and is commonly found in museums, art galleries, and photographic galleries.
Sizes provided are the unframed image size. A white border of approximately 4 cm is provided to facilitate framing.
We fulfill orders from the lowest available edition number.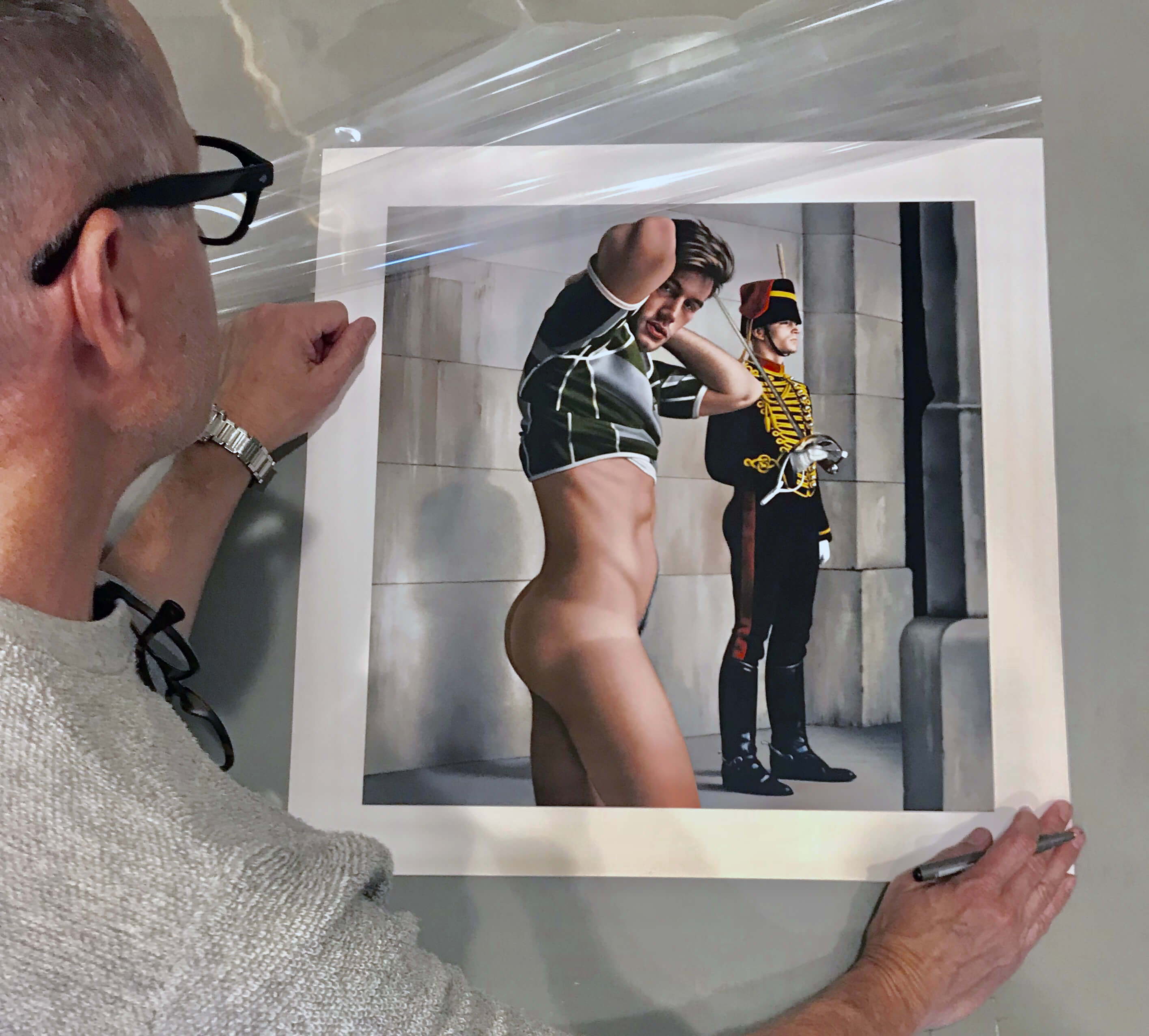 Ross Watson signing an unframed limited edition print
Delivery Information
We offer FREE worldwide fully-insured postage and packaging for all Limited Edition Prints and Photography.
All Limited Edition Prints, Canvases and Photography are sent unframed and packaged in re-enforced postal tubes.
All items will be shipped within 3 business days of receiving payment for your order. Delivery times can vary, but purchases are generally received worldwide within 5-7 business days from dispatch.
Items to be sent domestically will be sent using registered Australian Post. International orders are sent using international postal Express Mail Service (EMS). Tracking details will be provide upon dispatch of your order.
We take pride in getting your prints to you in the perfect condition. Your print will have been individually inspected and packed in perfect condition. Please minimize handling prior to framing.
Collector Testimonials
"Many thanks Stephen for your quick replies and delivery. Ross' prints are already attracting attention from visitors to my home."
Mark Johnston, Manchester UK


"The prints just arrived and look even more beautiful than they do on your website! Thanks I'm impressed you got them here in a week."

Karl Mentz, Miami USA


"Stephen, thanks for you advice on the framing.The canvases are now hung and look super handsome!"

Kent James Los Angeles USA

"Ross has such an amazing talent. I'm loving the canvas prints as I work in my home office. Thank you for your help and speed."
Brent Forster, London UK